August 3, 2020
Making every visit fun!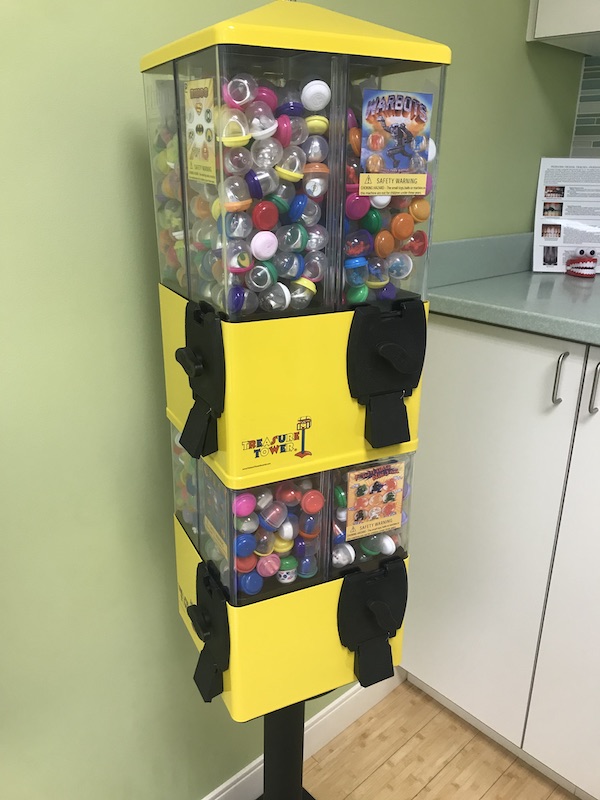 We strive to make every appointment fun for your children, so they recognize that this is a safe, interactive, and friendly environment where all of their oral healthcare needs are met! We have multiple strategies to help make every visit fun:
Reception Area
Large playhouse with play kitchen for imaginary play
Treasure tower filled with toys and tokens
Treatment Area
Video games
Interactive touch screens
Ceiling-mounted TVs for children to watch movies during their visit
Treasure tower filled with toys and tokens
At the end of each visit, your child will receive a token to "buy" a prize from our treasure tower. Young children under the age of three are given a choice of a larger beach ball or rubber duck. Adolescents are given the option of SPF chap stick.
NOTE: During COVID-19, some of these amenities, such as the interactive touch screens and playhouse, have been put away to reduce high-contact surface contamination.
July 20, 2020
Our 'After Visit Care Instructions' are now on our website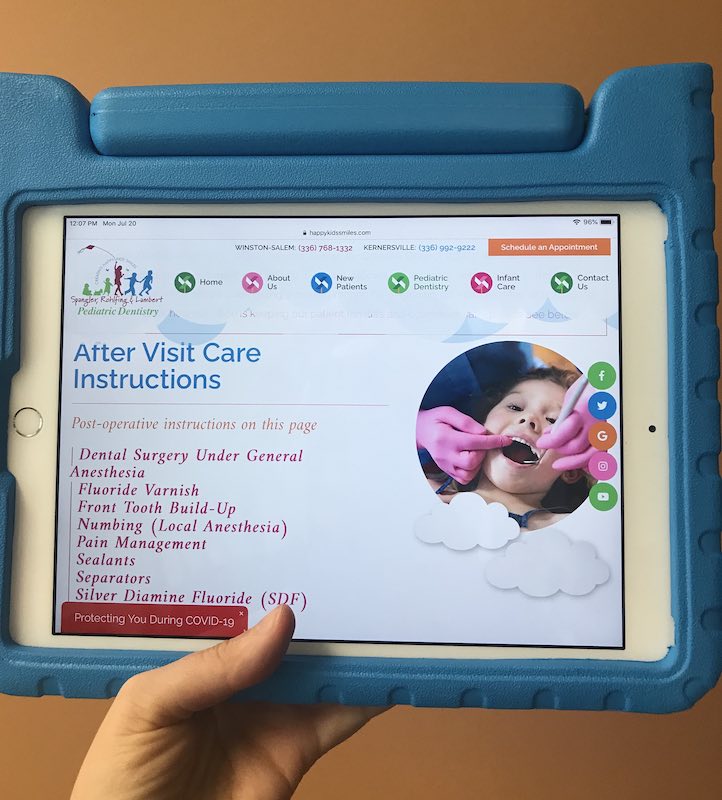 If your child had a dental procedure such a sealant, filling, or crown, the doctor will review how to best care for your child afterwards. We understand it is sometimes difficult to remember all of these instructions and wanted to make it easier for our family have access to all of our information.
Now, all of our 'after visit care instructions' are available on our website. There are written post-operative instructions for each dental procedure. In addition, we have posted a video of one of our doctor's reviewing the information.
Click here to find the after visit care instructions for the following procedures:
Fluoride varnish
Front tooth build-up
Numbing (local anesthesia)
Pain management
Sealants
Separators
Silver diamine fluoride (SDF)
Silver or white crowns
Space maintainers
Tooth colored fillings
Tooth removal (extraction)
Tooth trauma
Dental surgery under general anesthesia
We hope this new addition to our website makes things easier for our parents and families!
July 13, 2020
Tips for wearing a mask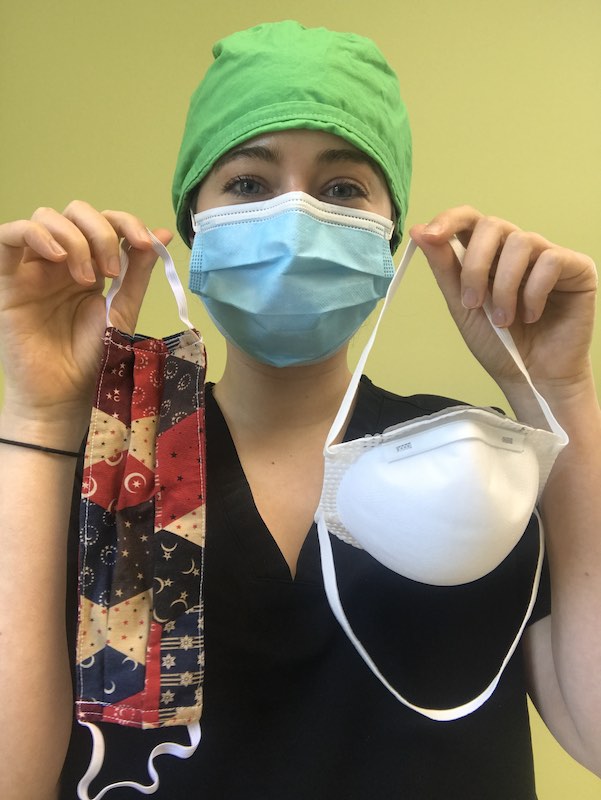 We are now requesting that parents and children wear a mask at our office. We have several tips for helping make your mask more comfortable!
#1 FIND YOUR FIT
Try multipel different masks to the see the best fit to your face. You want the most "snug" mask that doesn't leave gaps between the mask material and your face.
#2 ADJUST THE NOSE BRIDGE
If the mask has an adjustable nasal bridge, press it against your face to shape it. Pro tip: the better the mask is adapted to your nose, the less fog you'll get on your glasses.
#3 ADJUST THE EARLOOPS
If your mask is too loose, try twisting the earloops before hooking on your nose.
#4 SET IT AND FORGET IT
If you're constantly adjusting your face mask, you could be bringing germs to your face. Spend the time to fit your mask appropriately before heading out so you don't have to touch it again until it comes off.
July 9, 2020
Our Winston-Salem and Kernersville Offices are entirely paperless
We have prioritized becoming paperless during COVID-19 to reduce the amount of paperwork being cycled through the office and to be more eco-friendly!
We will now send all our digital paperwork to your email. Prior to your appointment, look for an email from an @happykidssmiles address. The email will have a link to fill out all necessary paperwork (such as consent forms, treatment plans, and COVID-19 questionnaires) without needing to print!
For more information, or to review our paperwork, click here
June 22, 2020
Our new reception area is your car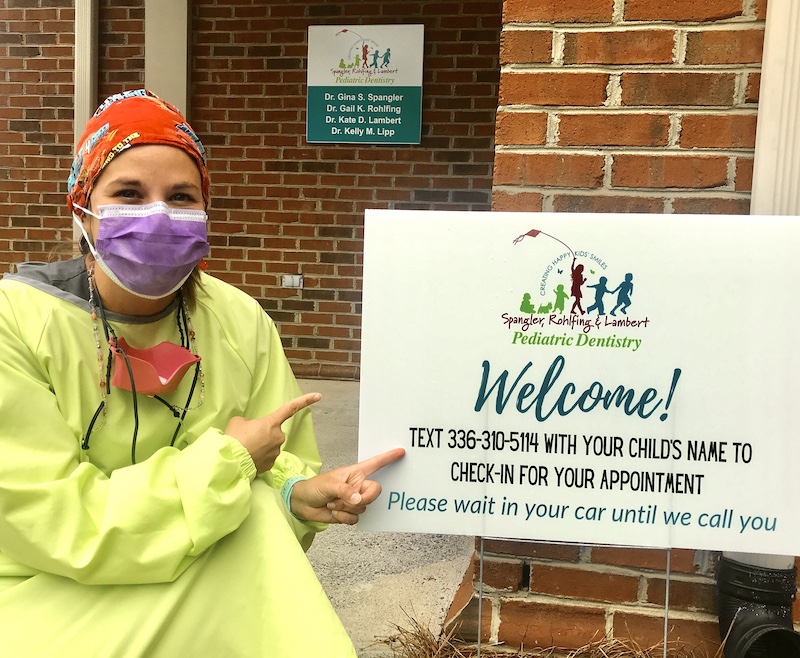 We have made a few changes to our office clinical flow. Think of your car as our new reception area; you'll remain in it during our virtual check-in and check-out process.
Virtual Check-In
When you arrive in our parking lot, simply text (336)310-5114 with your child's name and the car you are driving. Please check to make sure your paperwork (sent from an @happykidssmiles email) is completed and have everyone ready with their masks on. One of our team members will be with you shortly to review paperwork and take a screening temperature. If your child is school-aged, we kindly request that you remain in your vehicle during the appointment. Exceptions will be made for new patients, anxious patients, and children with special healthcare needs.
Virtual Check-Out
Once your child has returned to your car and all questions/concerns have been discussed, we ask that you remain parked until the virtual check-out process is completed. A team member iwll call you to set up future appointments and take any payment over the phone. After the check-out process is completed, you are free to enjoy the rest of your day!
May 23, 2020
Office re-opening with new infection control protocols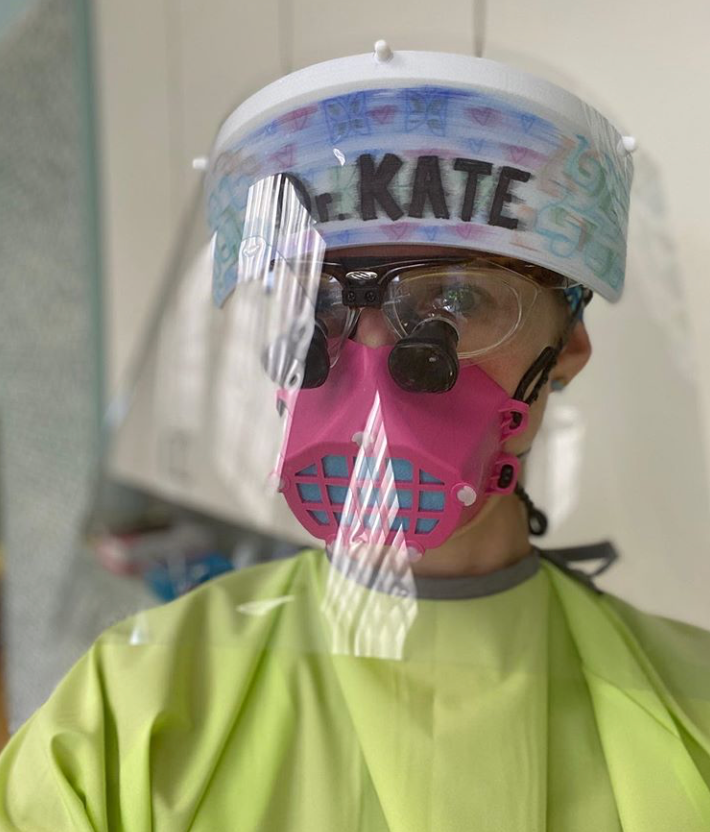 We remaing committed to keeping our patients, families, and team members safe during the COVID-19 pandemic. Prior to our office reopening, we have added numerous additional infection control protocols beyond the recommendations of the Center for Disease Control (CDC), American Dental Association (ADA), and North Carolina Dental Board (NCDS).
Additional protective measures include:
All patients and parents are screening for COVID-19 signs and symptoms including a temperature reading prior to entering the building
Parents of school aged children are asked to wait in the car during the appointment
All clinical staff are equipped with N-95 equipvalent facemasks, face shields, surgical caps, and surgical gowns
Check-in and check-out is completed virtually over phone/text
Air purification systems have been added to the office to remove any viral particles from the air
Social distancing is maintained between all patients
To read more on our updated infection control protocols, please see our COVID-19 page here.
March 17, 2020
Office closed to all non-emergency dental visits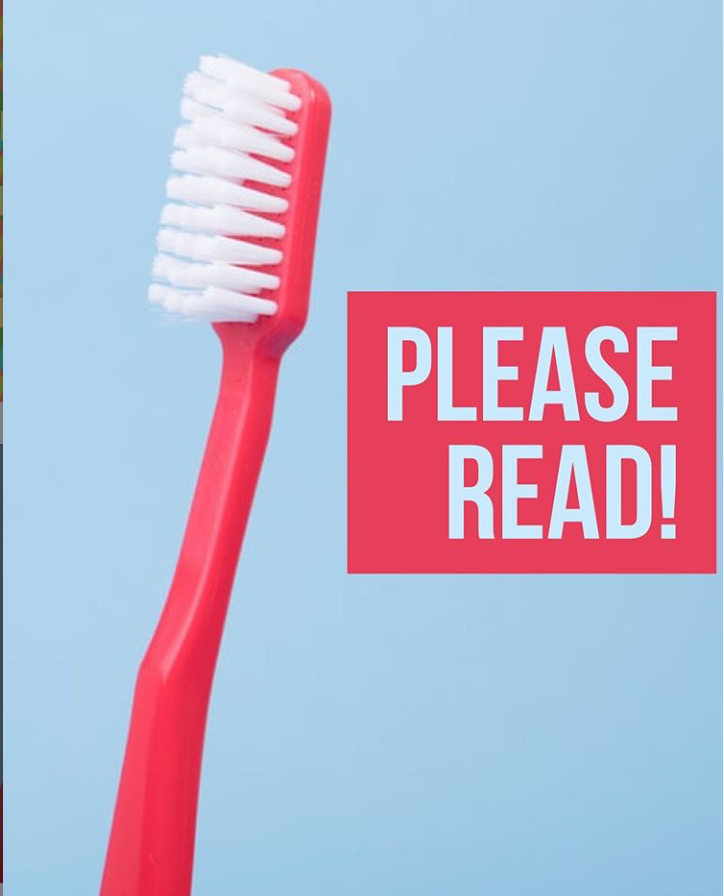 Due to the COVID-19 pandemic, our Winston-Salem and Kernersville offices are closed to all non-emergency dental clinics. If your child is having a dental emergency (such as infection, pain, swelling, or trauma) please do not hesitate to call our Winston-Salem office at (336)768-1332 or Kernersville office at (336)992-9222. For more information on dental emergencies, such as examples and possible treatment, see here.
March 2, 2020
Our office welcomes Ashley to the team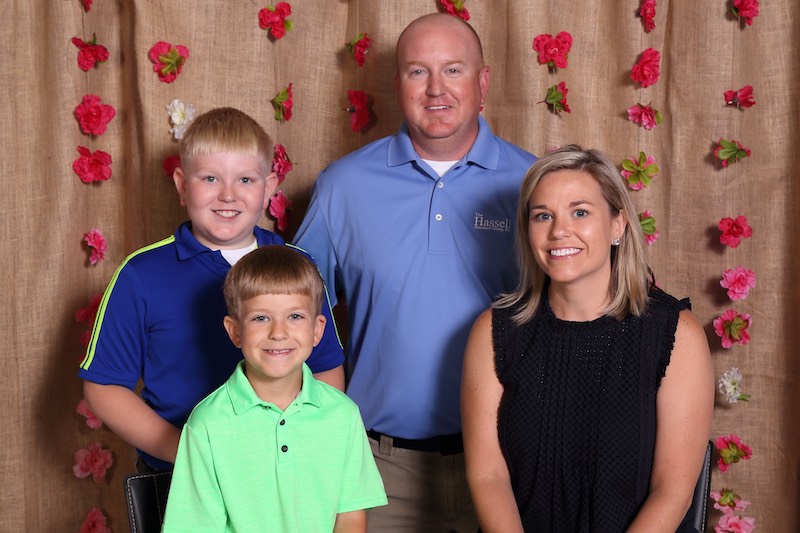 Please join us in welcoming Ashley, our newest dental hygienist, to the Spangler Rohlfing and Lambert Pediatric Dental Team!
Ashley has over 15 years working as a dental hygienist and absolutely loves working with children. She graduated from Guilford Tech for both her dental assisting and dental hygiene certifications.
Outside of the office, she enjoys going to the beach, reading, and relaxing. She is married to her husband, Will and has two sons and a dog named Mokka.
September 20, 2019
Our office welcomes Rhonda to the team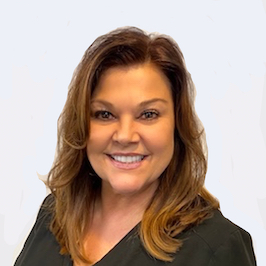 We would like to extend a warm welcome to Rhonda, our newest dental assistant and clinical coordinator.
Rhonda graduated from dental school at the University of North Carolina at Chapel Hill and has obtained her CDA license. She has over 30 years of dental assisting experience in pediatric dentistry. Rhonda was one of our original dental assistants with Dr. Mark Meyer when he opened our practice in 1989 and we are so lucky that she has come back home!
Rhonda finds a certain joy in working with children and radiates warmth to all patients. She is happily married and resides in Pfafftown with her husband Tim. she has three grown children and four grandchildren.