Dental Exams and Cleanings
Preventing Problems Before They Start
Visit our Winston-Salem or Kernersville office every 6 months to ensure healthy teeth and a beautiful smile
The health of your teeth and mouth is very important to the well-being of your entire body, and while routine brushing and flossing at home is necessary to keep your smile looking its best, visiting your dentist for a comprehensive exam and cleaning is essential. The American Dental Association recommends that you visit your dentist every six months to ensure your teeth stay healthy and your smile stays beautiful.
By routinely seeing your dentist for exams and cleanings, you can:
Prevent tooth decay, gum disease, and bad breath
Save money by avoiding costly and extensive dental procedures
Keep your teeth white by reducing staining from food and drinks
Shorten the time spent in your dentist's office
Have a smile that will last a lifetime
---
The Exam
Thorough evaluation of teeth, gums, and jaws
During your exam, one of our dentists will thoroughly examine your teeth, gums, and deverloping jaws. The dentist will look for signs of tooth decay, gum disease, and other health problems. Your dentist may also want to take X-rays to see what is happening beneath the surface of your teeth and gums.
The most up-to-date technology
Our office prides itself in using the most up-to-date technology in obtaining radiographs, which provide high quality digital images with the lowest amount of radiation exposure. The images provided will help our dentists to discover dental issues not visible to the naked eye.
Professional Cleanings
The dental hygienist will first evaluate your mouth
Your dental hygienist will begin your cleaning by exploring the surface of your teeth to determine if you have any cavities and to make sure any existing fillings are healthy. The dental hygienist will then perform a periodontal exam to make sure your gums and jawbone are healthy and free of gum disease and periodontal disease.
A gentle, thorough tooth cleaning
Next, your hygienist will carefully clean your teeth with a variety of tools to remove any hard mineral buildup (tartar) from your teeth. Then your hygienist will floss your teeth, use a polishing compound, and apply fluoride.
Review of good oral hygiene habits
The dental hygienist will always give your child personalized instruction on how to improve their home hygiene. If your dentist finds tooth decay or gum disease, the hygienist will talk to you about improving your brushing or flossing habits and the treatment options to help address any specific concerns. If your teeth and gums appear to be healthy, your hygienist will probably recommend strategies ot maintain yourh healthy smile.
---
X-Rays (Dental Radiographs)
Our Office's X-Ray Promise
Our office promises to only recommend X-rays that are absolutely necessary. We use the latest digital x-ray equipment to ensure the minimal radiation dose to our patients.
Why does my child need x-rays?
There are multiple indications for dental x-rays, also known as radiographs. Dental x-rays can be used to detect cavities, visualize gum and bone health, and evaluate your child's growth and development.
---
Bitewing X-rays
Bitewing x-rays are the most common type of dental x-ray. They are used to detect cavities between the teeth, and are essential to find cavities at their earliest stage.
---
Panoramic X-Rays
Panoramic x-rays are developmental radiographs that we can use to see the entire lower third of the face. In this x-ray, the dentist will be able to check all of the teeth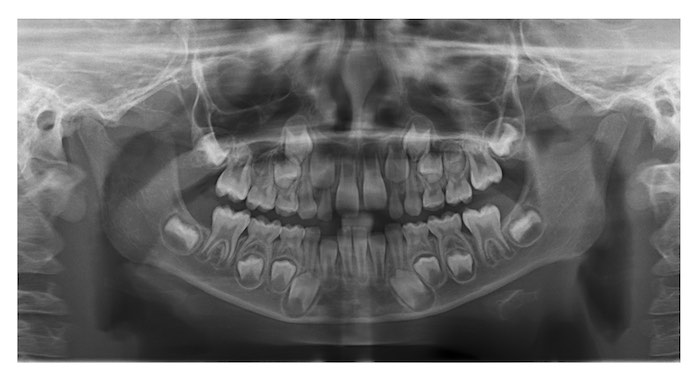 (including developing permanent teeth that have not yet come in), the top jaw, the bottom jaw, the TMJ (jaw joint), and the sinuses. Our office will take a panoramic radiograph around the time the front teeth are coming in, usually ~7 years old. Afterwards, a new panoramic radiograph is recommended every 3-5 years to continue to monitor your child's growth and development.
---
Periapical X-Rays
Periapical X-rays are used to visualize the entire tooth, from the top (crown) to the bottom (root). Periapical x-rays are not routinely recommended, but may be indicated if your child had trauma to the front teeth to ensure the nerve and root are healing appropriately.
---
Preventive Dentistry
A customized cavity prevention plan for each patient
Our office will customize a cavity prevention program for each child according to his/her cavity risk and home-care goals. This plan will include brushing and flossing techniques, dietary recommendations, and additional sources of cavity protection.
For children at a higher risk of developing dental decay, the following may be recommended
Fluoride Treatment At Our Winston-Salem and Kernersville Offices
At the end of your child's examination and cleaning appointment, the doctor will likely recommend a fluoride treatment.
What is a fluoride treatment?
A fluoride treatment is a highly-concentrated form of fluoride that strengthens teeth, prevents cavities from forming, and slows the progression of any existing dental decay. Fluoride treatment is now easier and faster than ever as we no longer use the old foam fluoride trays. The treatment can be completed in 30 seconds, tastes like strawberries, and does not cause gagging.
Can my child eat after having a fluoride treatment?
Yes, your child can eat immediately after a fluoride treatment. We ask that he/she avoid crunchy foods (such as apples, potato chips, carrots), sticky foods (such as gummies, caramels gum) and hot liquids (such as tea, coffee, hot chocolate) for the remainer of the day. Have your child skip brushing and flossing the night of treatment to allow the fluoirde to continue to soak into the teeth overnight. Your child may resume his/her normal diet and oral hygiene routine in the morning.